KYOTOGRAPHIE 2017
KYOTOGRAPHIE INTERNATIONAL PHOTOGRAPHY FESTIVAL
2017.4.15

Sat –

5.14

Sun
Map of 2017
KYOTOGRAPHIE 2017, KG+ Venue Map
KYOTOGRAPHIE MAP and EVENT listings available for download!
This MAP has all the information you need to see the festivals exhibitions, events and KG+ information.
(The map is also available at each venues for free).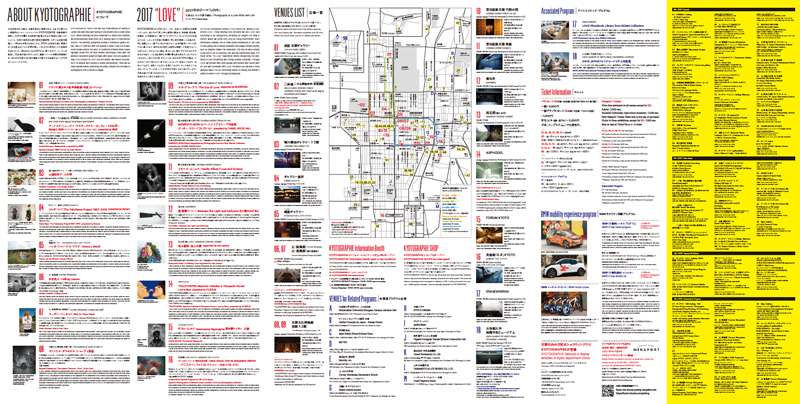 Download [PDF/4.7MB] Exhibition Information, Event Information and Map
[Google Map]

Click this button to open the details.
Open in Google Map
KYOTOGRAPHIE Information Booth open in two locations!
・ 16 JR KYOTO ISETAN 2F Entrance | 10:00–20:00 open everyday
・ 6 Former Shipukan | 10:00–20:00 open everyday
At these booths, visitors can purchase Passports, and find all kinds of information about KYOTOGRAPHIE.
BMW i is a BMW sub-brand, and the BMW i3 is the electric version, launched in April 2014, offering "sustainable mobility for urban environments." BMW i products and services make use of innovative techniques enabling them to realize sustainable mobility through specialized design, development, planning, production and sales. The BMW i3 is an extremely lightweight vehicle, the first mass-produced vehicle to be made using CFRP (carbon-fiber reinforced polymer) for its main body structure, offsetting the extra weight of the battery. This body structure is extremely strong, offering excellent protection for the driver and passengers. The car's low center of gravity ensures superb vehicle handling and performance.
BMW i3 free rental program Available on the weekend & holidays only.
On weekends and holidays during KYOTOGRAPHIE, BMW i3 will be available for free rental. Enjoy a dashing, zero-emissions drive through the streets of Kyoto in an easy-on-the-environment BMW i3. Anyone can register online to make a reservation.
Reception desk: in Former Shinpukan 06
Reservations can be made for
①11:00–14:00(3H)
②15:00–19:00(4H)
*The rental service desk will be open from 10:00 to 19:30.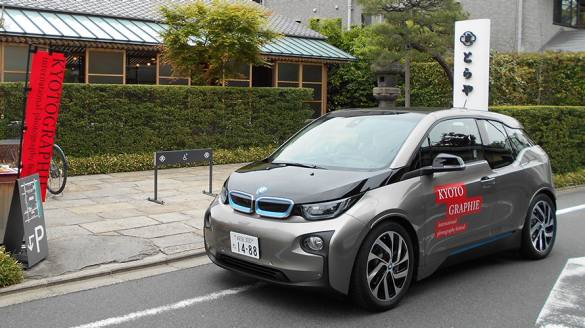 BMW i3 free shuttle car Available on the weekend & holidays only.
The BMW i3 will be the official car of KYOTOGRAPHIE, operating between the various exhibition locales on weekends and holidays during the exhibition period. This is your chance to check out the electric, zero-emissions BMW i3 for yourself! A BMW i3 made into an art car by TOILETPAPER will also be making the rounds. Use of these vehicles will be free of charge with your KYOTOGRAPHIE Passport. Karasuma-Oike will be the hub, and service will be offered in three directions from there. Please check the map for locations.
Operating hours: 10:00–18:00 | Number of passengers: 3
Service is only available from stops indicated on the map. Possible to take one section between platform to platform. if you wish to get out along the route, please ask driver if possible.
Nijo Castle route roughly every 20 minutes
Toraya route roughly every 25 minutes
Gion route roughly every 30 minutes
BMW Cruise Bikes (bicycles) will be available for free one-day rental for holders of KYOTOGRAPHIE Passports.
Reception desk: in Former Shinpukan 06
Reservations can be made for 10:00–19:30
※ Please show your ID card.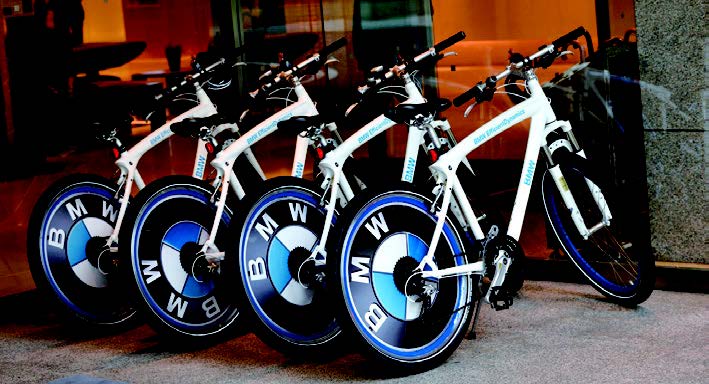 Bus/Train Route Search System "Arukumachi KYOTO"
日本語 | ENGLISH
Kyoto World Heritage Loop Bus "K'LOOP" / Hop-on Hop-off
日本語 | ENGLISH
Rent Cycle & Parking


Bicycle Rental, free delivery and pick up anywhere in Kyoto City,
brought to you by SHARE BIKE̶MINAPORT
For more info. please search "MINAPORT" online.
Most venues do not offer parking. If you are visiting by bicycle,
please use the nearest bicycle parking area. → Kyoto city bicycle parking navigation site