1
Guimet National Museum of Asian Arts, Photographic collections
Theater of Love
TORAYA Kyoto Gallery
Each year, the Musée Guimet, France's national museum of Asian art, brings a highly-acclaimed selection of vintage images from its photographic collection to Kyoto. This year's photos feature nineteenth and early twentieth century images of Japanese weddings and geiko courtesans.
The largest museum outside of Asia dedicated to oriental art, the Musée Guimet was founded in Lyon in 1879 by chemical industrialist Emile Guimet to house works he collected on his travels in Japan, China and India. In 1885, the museum moved to Paris, and in 1928 it became a national trust. Materials from French archeological expeditions and oriental artworks from the Louvre were then added, bringing the total collection to some 45,000 sculptures, paintings and decorative items.
Albumen prints, hand-tinted images and other photographic works relating to Japan alone number over 10,000 images, including late Edo–early Meiji era photos taken by Felice Beato as well as works by such Japanese pioneers as Kusakabe Kimbei and Ogawa Kazumasa. One must-see in this year's exhibit is a sumptuous maki-e lacquer album of "Yokohama photos" of scenery and "exotica" overpainted in nihonga pigments, representing a unique bridging of then-revolutionary Western technology and traditional Japanese craft.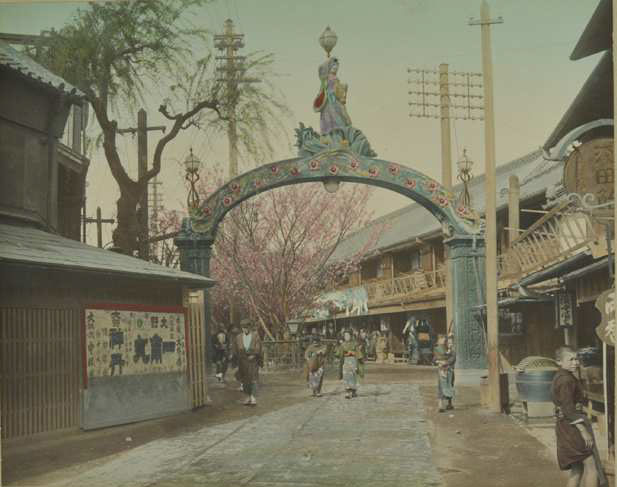 フランス国立ギメ東洋美術館・写真コレクションより 作者不明(横浜写真)「吉原大門」1907-1911年
Anonymous (Yokohama shashin), Front gate of Yoshiwara, 1907-1911
© MNAAG.
TORAYA Kyoto Gallery
400 Hirohashidono-cho, Karasuma Nishi-iru, Ichijo-dori, Kamigyo-ku, Kyoto, 602-0911
Subway Karasuma Line "Imadegawa" station 7 min on foot from exit 6
OPEN:10:00-17:00
CLOSED:4/24 (until 5/15)
Entrance Fee: Free
[Related program]
Exhibition Talk: The Guimet Collection
4/16 Sun. 17:00-18:00 >Detail
[Video Archive]
Exhibition Talk: The Guimet Collection
4/16 Sun. 17:00-18:00